The Best Maxi Skirts For The Summer
   Flowy lines. Elegant silhouettes. Bohemian romance. There's nothing like an ankle-length skirt to bring out your inner romantic, and summer is the perfect season for swathing your legs in a cloud of gorgeous fabric. From casual to dressy, versatile maxi skirts are great for just about any occasion, and flattering to boot. Read on to discover the prettiest skirts of the season.
Bring the drama in this Rugby Stripe Column skirt by Free People. This maxi skirt's horizontal stripes create a striking look, and the form-hugging shape is effortlessly sexy, proving that long casual skirts don't have to mean dull and frumpy. $78; freepeople.com.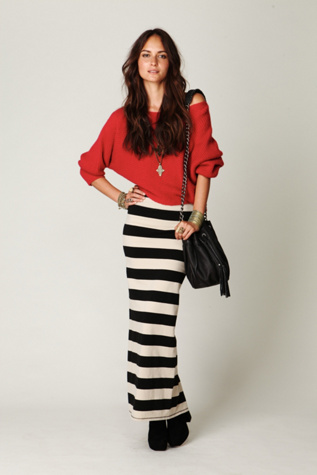 The Moonbeam Maxi Skirt by Free People is sheer waist to toe romance. Its layers cascade down in soft ivory and white, and a lovely lace trim lines the hem. This skirt is made for vibrant summer days, wading through flower meadows with a gentle breeze playing in your hair. $148.00; freepeople.com.
Comfortably casual, yet far from boring. The Water's Edge Skirt by Anthropologie, made from low-maintenance linen-blend jersey, injects some style into a lazy day at home, but works just as well outside the house. The waves at the waist create a cute detail for this simple, classic skirt. $88.00; anthropologie.com.
ModCloth puts an elegant retro twist on the maxi with their Long Story Maxi Skirt. The subdued gray of this skirt highlights its sweeping flared lines, making it just as perfect for day-time wear as it is for a more formal occasion. $44.99; modcloth.com.
The Pleat Maxi Skirt by ASOS is gorgeous enough to make you twirl. The soft, sheer fabric sways gracefully with every step in a thicket of knife pleats. This skirt that romantics are bound to love is pure glamour. $86.20; us.asos.com.
Lovers of color, rejoice! The Chiffon Double-Layered Full Length Skirt by American Apparel comes in ten lovely colors and features a high waist and two slightly sheer layers to set it apart from the rest. Utterly breezy and beautiful, this skirt offers enough variety and versatility even for the most timid maxi skirt initiate to choose from. $58.00; store.americanapparel.net.
Any one of these summery skirts is sure to put some style in your
step. So whether long skirts are your wardrobe staple or you're only
curious about going to new lengths, you'll feel breezy and beautiful
in these hottest skirts of the season.